The absolute best in wallpaper and coverings across the South East
For the last ten years, the team at HGC Decorations has delivered high-quality wallpaper and coverings to the people of Kent, Surrey, and Sussex.
Our professional decorators pride themselves on the high standard of work they provide, hanging beautiful wallpaper and coverings in rooms and houses all over Oxted, Reigate, Sevenoaks, Woldingham, Westerham, and beyond. Whatever vision you have for your home, we can help you to make it a reality.
What HGC Decorations can do for you
When it comes to the finest wallpaper and coverings, nobody does it better than HGC Decorations. Here are some of the things you can expect from us.
An extensive range of wallpaper and coverings to choose from
We find that, while some of our clients already have a clear vision of the interior decorations they are after, others have yet to make up their mind. Whichever camp you fall into, you are in good hands with HGC Decorations. Our experienced decorators will walk you through the various wallpaper and coverings options available, offering their years of expertise to help you make the decision that is right for you.
High-quality materials
When it comes to wallpaper and coverings, we discuss with all of our customers the best brand and quality of paint and wallpaper to use, as we believe that our customers deserve the very best – the sort of product that will last for a generation or more. For this reason, we recommend quality coverings from some of the biggest and most reliable brands in the industry.
Protecting your property
Hanging wallpaper and coverings can be a messy job, but our clients in Oxted, Reigate, Sevenoaks, Woldingham, Westerham, and beyond, need not concern themselves with that. At HGC Decorations we go to great lengths to ensure that your floors, carpets, and furniture are protected from spillages, adhesives, and any other damage. We provide our own protective covers, specially designed to offer maximum defence to your property and belongings. Our team of decorators will ensure that this is installed correctly before starting to hang your wallpaper and coverings. Once the job is completed to your satisfaction, they will remove all the protective surfaces as part of their general tidying up.
Why choose HGC Decorations?
There are so many reasons to choose us for your wallpaper and coverings, as any of our previous clients will attest. Here are some of the more common ones: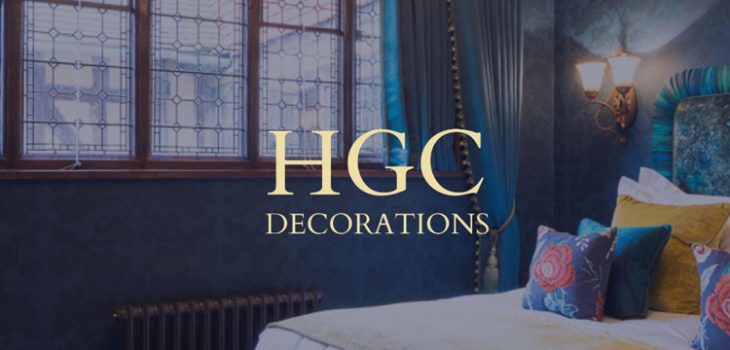 A name you can trust
Our team of professional decorators have been hanging wallpaper and coverings for clients across the South East for the last decade. During the years we have been in business, we have built ourselves an enviable reputation for quality, thanks largely to the recommendations made by so many of our previous clients to their friends, families, and work colleagues. We always appreciate the faith shown in us by our former customers, which is why we take such pains to exceed the expectations of all our clients – past, present, and future.
Your local wallpaper and coverings specialists
Clients across the South East, whether from Kent, Surrey, or Sussex, can make the most of having the region's number one decorating firm right on their doorstep. We are based in the delightful Crawley suburb of Maidenbower in West Sussex. From here, our team of decorators travel across the region, hanging high-quality wallpaper and coverings for clients as far afield as Oxted, Reigate, Sevenoaks, Woldingham, Westerham, and beyond.
A dedicated team of professional decorators
At HGC decorations, we believe that our customers deserve the absolute best, not only in the quality of wallpaper and covering that we provide, but in the skill and precision of those decorators we employ to hang them. Our team of workers have been part of the decorating industry for a long time and brings decades of experience to every wallpapering job they are instructed to complete. It is this kind of expertise that makes HGC Decorations a name to be relied upon across the South East.
For exceptional wallpaper and coverings, hung by the South East's most dependable decorators.
Call HGC Decorations today on 01293 201 352 to arrange a consultation.