The absolute best in painting and decorating across the South East
While we are known and respected across Kent, Surrey, and Sussex for our painting and decorating, the team at HGC Decorations does not stop there. For the last ten years, we have also provided our clients across the South East with high-quality interior refurbishments, giving their homes a whole new lease of life.
Customers from Oxted, Reigate, Sevenoaks, Woldingham, and Westerham alike – as well as many more in between – have benefitted from the high standards of design and craftsmanship that are the hallmark of all interior refurbishments from HGC Decorations. With a dedicated team of experienced staff on hand with decades of experience under their collective belts, there is no reason that you can not do the same.
What HGC Decorations can do for you
When it comes to interior refurbishments, we have much to offer our clients across the South East. Here are some of our more popular services.
Combining style with substance
All interior refurbishments start with a vision. At HGC Decorations, we consider it our job to make that vision a reality. With our years of experience working in the industry, we have the technical knowledge to put together a workable design that meets your specific requirements in full. Our team will work alongside you from the very start, talking through possible solutions to the interior refurbishments that you have in mind, whittling them down to the most appropriate method.
No job too big or small
Some interior refurbishments are simple and quick to finish off – it could be something as easy as fitting or removing a dado rail or installing a new mantlepiece. Others are more extensive projects and could require several weeks or more to fix. Whether you need us to alter a single aspect of one room in your house or perform several large-scale interior refurbishments. We can supply a team of Plasterers, plumbers, electricians, and tilers to take on the complete project from start to finish.
Protecting your property
By their very nature, interior refurbishments tend to cause a bit of mess. With all the work involved in turning an existing room into some completely new, it is only to be expected. When you instruct HGC Decorations to handle your interior refurbishments for you, you can rest assured that we will treat every aspect of your property with the care and attention it deserves. With our own set of protective coverings, tightly-fitted by our team of workers, your newly refurbished room will be left in as pristine a condition as it was before work started.
Why choose HGC Decorations?
As any of our previous interior refurbishment clients will tell you, there are plenty of reasons to choose us. Here are some of the more common ones: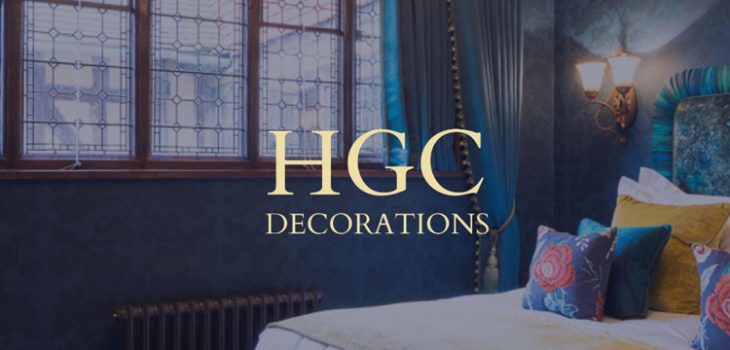 A name you can trust
Interior refurbishments have been an integral part of our business since we started trading some ten years ago. In that time, we have earned ourselves a sterling reputation for quality and workmanship – a reputation that we strive to maintain with every refurbishment project that we take on.
Your local painters and decorators
Our main office can be found in Maidenbower, West Sussex. It is from here that our team of workers travel across Kent, Surrey, and Sussex, performing impeccable interior refurbishments for clients as far afield as Oxted, Reigate, Sevenoaks, Woldingham, Westerham, and beyond.
A dedicated team of interior refurbishment specialists
Our team of interior refurbishment experts form the heart of our business. Between them they boast decades of experience on projects both large and small. This expertise, coupled with their prodigious technical ability, is your assurance that any interior refurbishments installed by HGC Decorations will not only meet with your approval, but will continue to please for years to come.
For exceptional interior refurbishments across the South East.
Call HGC Decorations today on 01293 201 352 to arrange a consultation.